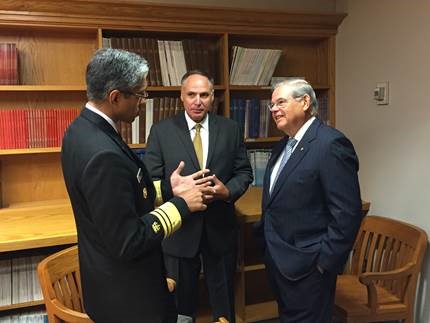 (l-r) U.S Surgeon General Vivek Murthy, Partnership for a Drug-Free New Jersey Executive Director Angelo Valente, and NJ Sen. Bob Menendez discuss Murthy's plan to issue the first ever Surgeon General's report on Addiction and Health.
On Monday, through the efforts of Senator Robert Menendez and Senator Cory Booker,  I was honored to moderate a panel discussion featuring both U.S. Senators, U.S. Surgeon General Vivek Murthy, and the U.S. Department of Veterans Affairs (VA) Under Secretary for Health Dr. David Shulkin to discuss the opiate epidemic and steps being taken to stem the tide of this public health crisis that is impacting millions of NJ residents and Americans.
As all of PDFNJ's subscribers understand, since 2009 PDFNJ has been a leading voice and advocate for initiatives and legislation to help protect all family members, but particularly our children from the scourges of prescription drugs and heroin dependency. We are losing too many of our family, friends, and neighbors and we need to do everything possible to educate both prescribers and patients about the fact that opioids can become addictive and in many instances lead to heroin addiction. It is for this reason that the passage of NJ Assembly Bill 3424 is so crucial in protecting our children and families. This bill would require doctors and other prescribers, when treating a patient under 18 years of age, to discuss the potential risks of dependency with the patient and their parents before writing a prescription for opiate-based painkillers, as well as to review non-opiate alternative treatments when appropriate.
We need everyone's help if we are truly going to turn the tide and reverse the epidemic in New Jersey and our country. Over the next several weeks we will be sharing with you an update on this and other legislation, as well as details about an upcoming statewide day of awareness, Knock Out Opiate Abuse Day, that will be held in every community on October 6, 2016.
During the panel discussion of the U.S. Surgeon General's tour of NJ, each of the speakers stressed the fact that the opiate epidemic must have immediate steps taken in order for our state and our country to realize any progress…
I could not agree more! 
Surgeon General Calls on Prescribers to Mobilize to Prevent Opioid Abuse
For Immediate Release: August 8, 2016
Contact: Angela Conover, 973-467-2100 x25, conover@drugfreenj.org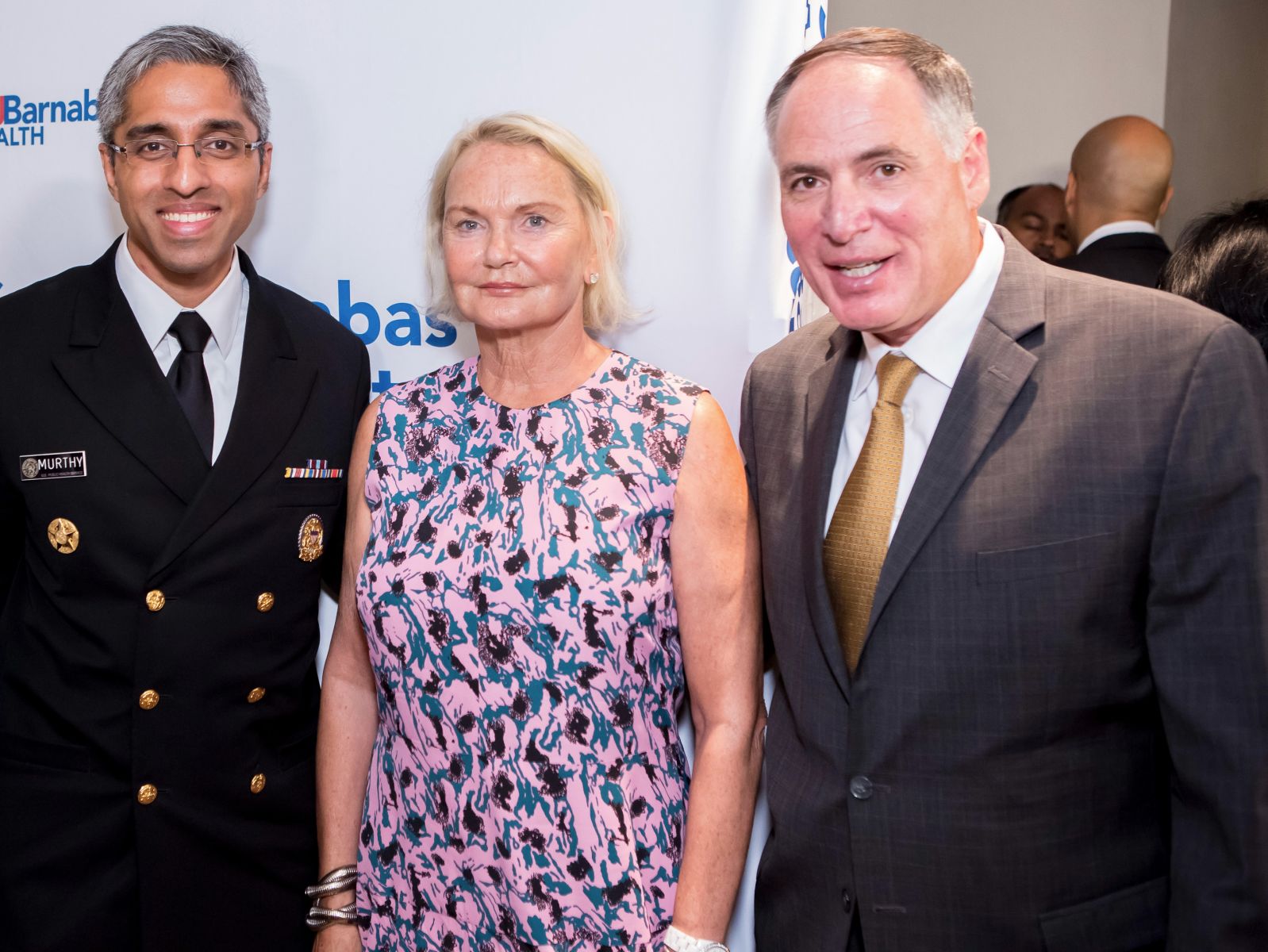 U.S. Surgeon General Vivek Murthy, Partnership for a Drug-Free New Jersey's Co-Chair, Elaine Pozycki, and Partnership for a Drug-Free New Jersey's Ex. Director, Angelo M. Valente discuss the importance of patient notification during the "Turn the Tide Tour" in Livingston, NJ on 8/8/2016
LIVINGSTON -- U.S. Surgeon General Vivek H. Murthy, brought his Turn the Tide tour to New Jersey to discuss the current opiate abuse epidemic impacting the state, and discuss action steps physicians can take to stem the tide of the epidemic. The Surgeon General is currently on a national tour designed to educate and mobilize prescribers to take immediate action to end this epidemic. 
The discussion was part of a forum hosted by U.S. Senators Bob Menendez and Cory Booker, (both-D-N.J.), and moderated by the Partnership for a Drug-Free New Jersey's Executive Director Angelo Valente. It was held at Saint Barnabas Medical Center in Livingston, New Jersey on August 8, 2016.
U.S. Surgeon General Murthy was joined by U.S. Department of Veterans Affairs (VA) Under Secretary for Health Doctor David Shulkin for the forum. Dr. Murthy is visiting states, like New Jersey, that have been especially hard hit by the prescription opioid epidemic and will send letters to over two million prescribers and health care professionals, urging them to: improve prescribing practices, inform their patients about the risks of opioid addiction, and connect people with opioid use disorders to evidence-based treatment. 
Heroin deaths in New Jersey are up 160 percent since 2010, with more than 1,200 overdose-related deaths last year alone.  In 2015, more than 28,000 New Jerseyans sought treatment for heroin or opioid abuse, significantly outpacing previous year's figures.  According to the Centers for Disease Control and Prevention (CDC), 78 Americans die every day from an opioid overdose, and heroin-related deaths more than tripled from 2010-2014 with approximately three out of four new heroin users report first abusing prescription opioids.  Veterans are twice as likely to die from an accidental opioid overdose as non-veterans, according to a 2011 study of the VA system.
"Both patient and prescriber education are crucial if we are to make inroads in preventing this epidemic", explained Valente. PDFNJ focuses on educating parents, physicians, and community leaders about the dangers of prescription pain medicine and the link between prescribed opiates and heroin abuse rates, according to Valente. He explained, the Before They Prescribe- You Decide PDFNJ 2016 public health campaign is geared at educating parents on the link between prescribed prescription pain medicine and heroin abuse and encouraging them to speak to their doctor regarding the addictive qualities of pain medicine and the possible alternatives.
Turn the Tide is a national campaign based on the concept of "prescribers talking to prescribers."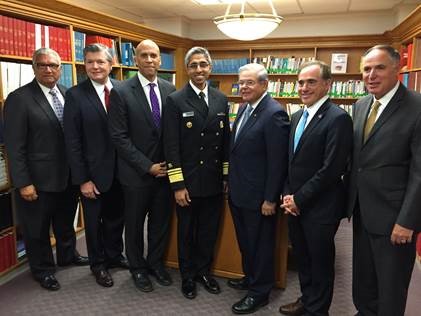 (l-r) RWJBarnabas Health Chief Medical Officer John Bonamo, Barnabas Medical Center President & CEO Steve Zieniewicz, Sen. Booker, Dr. Murthy, Sen. Menendez, Dr. Shulkin, moderator Angelo Valente from Drug Free NJ