We now come to the end of our five week journey through the American Medicine Chest Challenge 5 Steps. We learned a lot along the way about prescription drug abuse and safe storage and disposal of unwanted, unused, and expired prescription medication. But the most important step is yet to come. Step 5 of the AMCC 5 Step Challenge is to talk to your kids about the dangers of prescription drug abuse.
For over 20 years, the Partnership for a Drug-Free New Jersey has commissioned research studies that have proven empirically that the more dialogue that exists between parents and children, the less likely those children will be to experiment with drugs.  We have looked at family meals, family vacations, families attending religious ceremonies together, and families participating in recreational activities. Every year, for 20 consecutive years, we have identified very specific findings that are great reminders that parents are truly the antidrug.
Children who spend a minimum of 15 minutes a day with their parents, are 60% less likely to experiment with drugs.
8 in 10 children feel their parents' opinions on drugs and alcohol are very important when it comes to their decision to do drugs.
Parents who have meals with their children up to 5 times a week are significantly more likely to ask their children about their day than those who have fewer meals a week.
93% of parents who have spoken to their children at a younger age about drug or alcohol abuse felt that it was somewhat or very impactful later in life.
​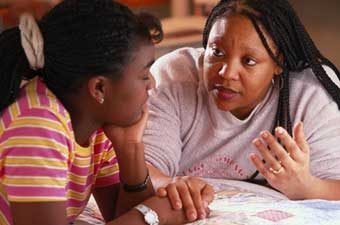 Image credit: talberthouse.org
The numbers speak for themselves. It is clear that as parents, we can and do make a difference.
Thank you for coming along with us on this journey through the AMCC 5 Step Challenge. They are simple measures, but if we all take them to heart, we can end prescription drug abuse once and for all.
As always, for more information, please visit the American Medicine Chest Challenge website.