It's a well known fact that music can inspire change in a community, protest singers like Bob Dylan and John Lennon can certainly attest to that. This idea of change through music led the Partnership for a Drug-Free New Jersey to create New Jersey Shout Down Drugs.  Nearly 10 years later, it is still going strong.
New Jersey Shout Down Drugs challenges high school students across the state to create powerful peer-to-peer substance abuse prevention messages. The way we see it, other than their parents, who better to tell kids about the dangers of substance abuse than kids themselves?  The best entries are chosen from every county and compete head to head in front of a panel of judges to be declared the statewide champion.  Our champions spend the next year touring around the state, spreading their message of substance abuse prevention.
Every year, we are always floored by the quality of talent in our great state and this year was no different.
This year's event, held at the New Jersey Performing Arts Center (NJPAC) in Newark, was a staggering success.  The night was filled with eclectic, original music from some of New Jersey's most talented young performers.  I always love to see how incredibly diverse each performer's music is, while all the same sending the same prevention message.  We had singer-songwriters, hip hop artists, and even full on rock bands.  But it was Nicole Levine, of Essex County, who won the judges over with her soft rendition of her original song "I Hope That You'll Say No".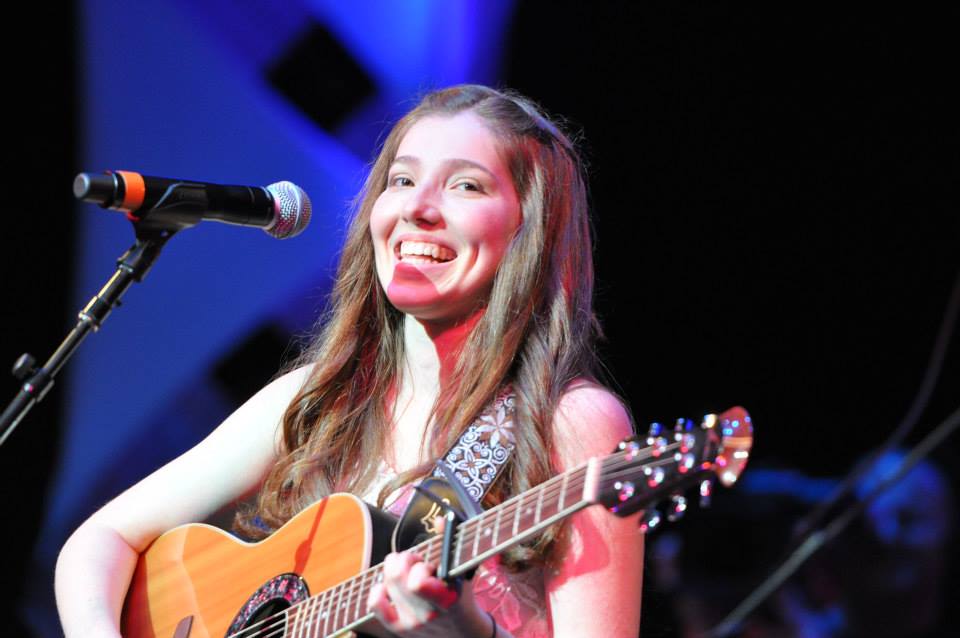 Nicole Levine performing at NJPAC for New Jersey Shout Down Drugs. Photo credit: Teresa Mathias
Of course, I could go on and on describing the spectacle that is our New Jersey Shout Down Drugs program, but thanks to our friends and co-sponsors at Comcast, I don't have to.  Comcast has made the entire 2013 New Jersey Shout Down Drugs event available as a free on-demand program.  From the On Demand menu all a Comcast Digital Cable customer would have to do is simply select Get Local/Community Investment/Drug Awareness.  The program is available in HD as well as SD.
We can't thank Comcast enough for their support in this noble endeavor.  Not only does it excite our contestants to see themselves on television and inspire next year's performers, but it also offers an invaluable way for parents and kids to sit in the comfort of their own homes to enjoy an evening of quality music, filled with positive prevention messages.
We are so very proud of our New Jersey Shout Down Drugs contestants for their considerable leadership and courage to stand before hundreds of people and sing what they feel about substance abuse.  But we are also so very thankful to Comcast for allowing us to broadcast this amazing talent to the masses.
Check out some of the performances from this year and years past on the Shout Down Drugs website!