We were all shocked by the unfortunate and untimely passing of the very talented Cory Monteith last week.  It is always extremely sad to hear of a young life being extinguished too soon, especially when it could have been prevented.
For anyone who hasn't been following the story, Cory Monteith, a 31 year old actor from the acclaimed television show, "Glee", was found dead of an apparent drug overdose. A subsequent autopsy revealed Monteith had a deadly combination of heroin and alcohol in his system. Sadly, Monteith is not the only one suffering from this kind of substance abuse. A frightening number of young adults in New Jersey are falling victim as well.
An NJ.com article last month detailed the problem quite thoroughly, saying heroin overdose death among 18-25 year olds in New Jersey had risen 24% in 2011 and are continuing to balloon.  Ocean County, the seeming epicenter of the issue in the state, has experienced 52 heroin overdose deaths this year, only one fewer than the total number of heroin related deaths in Ocean County for all of 2012.  Keep in mind: many counties only report heroin overdoses when the result in death. Imagine how many close calls there have been.
But why is this happening? Why are people being drawn to heroin at so young an age? The answer could lie with the concentrated efforts in the state towards prescription drug abuse. The lack of prescription drugs might be fueling a demand for the much cheaper and more accessible heroin.  Many users will start with prescription drugs because of the misconception that they are safer.  As more and more and homes secure the prescription drugs, users buy them on the streets for as much as $40 a pill. Once the costs become too high, the user will move to heroin which is significantly cheaper and considerably more potent.  Even more frightening, there have been many cases of kids mixing heroin, prescription drugs, AND alcohol; a combination that has the potential to slow the heart down to the point of death.
We, as parents, must secure prescription drugs in our homes and get rid of those we do not need. We must have open discussions with our kids about the incredible dangers that prescription drugs present when they aren't taken as prescribed by a doctor.  With heroin being easier than ever to obtain, we must be sure our kids know what we expect of them and what can happen if they begin abusing. Cory Monteith is a perfect example of someone who began abusing drugs and despite entering rehab and all the resources available to someone of his stature, was still unable to completely kick the habit. 
To address the growing heroin problem in this state, the Partnership for a Drug-Free New Jersey in conjunction with the New Jersey Attorney General and the Monmouth, Ocean, and Cape May County prosecutors' offices will be launching a brand new statewide campaign called "Heroin – are you talking to your kids yet?".  Our hope is that parents will see the message and take action.  Make sure your kids don't become a statistic. Talk to them. Keep them away from substance abuse.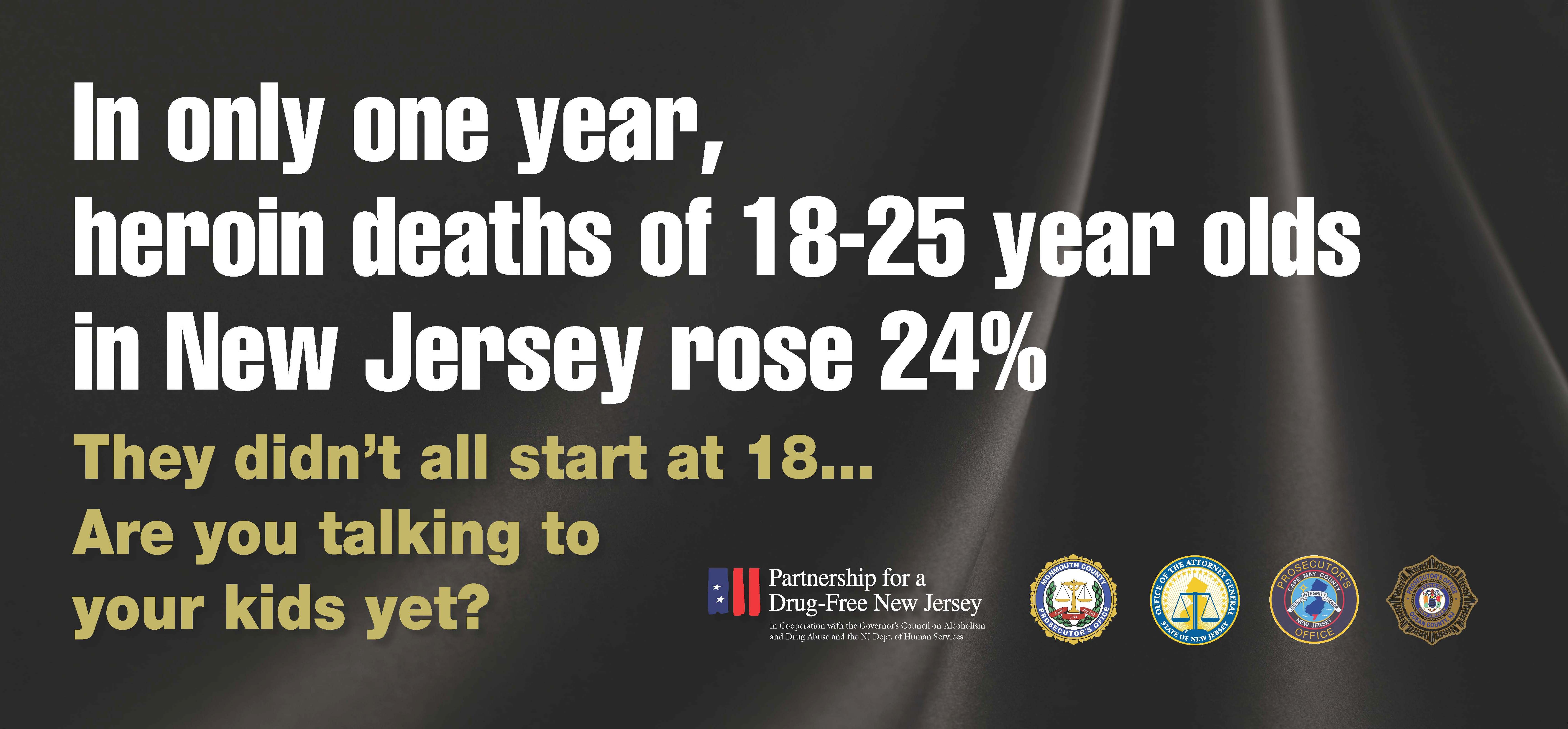 Artwork for the new statewide campaign "Heroin - Are you talking to your kids yet"
For more information about heroin, please visit our heroin factsheet available on the Partnership website, drugfreenj.org. Information about securing prescription drugs in your home can be found on americanmedicinechest.com.