Union County Parent Wins Family Computer from the PDFNJ for Annual PDFNJ/Horizon Foundation for New Jersey's 5th Grade Parent Alert Program
2/23/2009
FOR IMMEDIATE RELEASE
February 23, 2009
Contact:
Michelle Vernuccio
Media Coordinator
Phone: 201.916.1029
E-mail: michelle@drugfreenj.org
Union County Parent Wins Family Computer from the Partnership for a Drug-Free New Jersey
(MILLBURN, NJ) Janet Ryan, a Kenilworth resident and parent of Melissa Ryan, a fifth grade student at Harding Elementary School in Kenilworth, New Jersey, was randomly selected to win a Dell desktop computer for participating in an online survey conducted by the Partnership for a Drug-Free New Jersey (PDFNJ). This survey evaluated the effectiveness of PDFNJ?s 5th Grade Parent Alert program, sponsored by the Horizon Foundation for New Jersey.
Over 35,000 parents of New Jersey fifth grade students from over 385 schools participated in this statewide initiative that provided parents of fifth graders with helpful tips and suggestions on how to affectively discuss the subject of substance abuse with their children.
Findings from the Parent Study indicated that 88-percent of participating parents learned more about substance abuse from this program and ninety percent of participating parents became more aware of the risks of using drugs and alcohol. Over half of the participating parents have never previously participated in a substance abuse prevention program and nearly all of the parents or ninety percent found this program to be an effective substance abuse prevention initiative.
The materials provided in the 5th Grade Parent Alert package provides specific examples of drugs and drug trends that fifth grade students throughout New Jersey will be exposed to.
The 5th Grade Parent Alert is one of the numerous free of charge programs that are available to all New Jersey schools, businesses and communities provided by PDFNJ. Please visit www.drugfreenj.org for further information of this and other programs provided by PDFNJ.
###
Best known for its statewide anti-drug advertising campaign, the Partnership for a Drug-Free New Jersey is a private not-for-profit coalition of professionals from the communications, corporate and government communities whose collective mission is to reduce demand for illicit drugs in New Jersey through media communication. To date, more than $50 million in broadcast time and print space has been donated to the Partnership?s New Jersey campaign, making it the largest public service advertising campaign in New Jersey?s history. Since its inception the Partnership has garnered over 46 Advertising and Public Relations Awards from National, Regional & Statewide Media Organizations.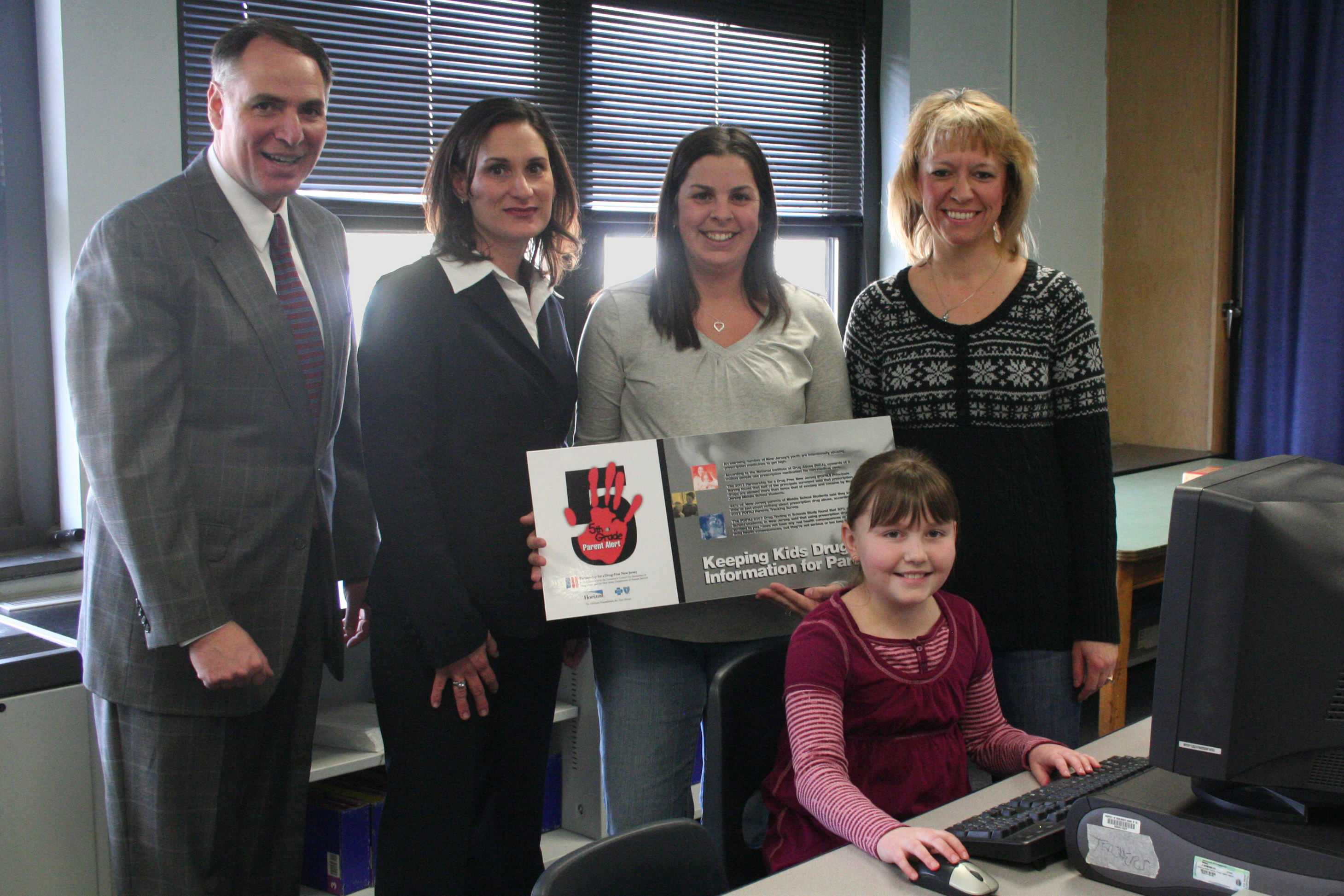 Kenilworth 5th Grader Melissa Ryan (center) is enjoying the computer her family won as they were randomly selected from over 35,000 New Jersey fifth grade students and families who participated in the Partnership for a Drug-Free New Jersey (PDFNJ)/Horizon Foundation for New Jersey Annual Fifth Grade Parent Alert.
Participating in a ceremony held at Harding Elementary School in Kenilworth, New Jersey from left to right: Angelo M. Valente, Executive Director of PDFNJ; Michele Berry, Grants Coordinator of Horizon Foundation for New Jersey; Kristen Jeans, School Counselor of Harding Elementary and Fifth Grade Parent Janet Ryan.