shorenewstoday.com: Cops, social agencies work to stop drug abuse before it starts
10/13/2017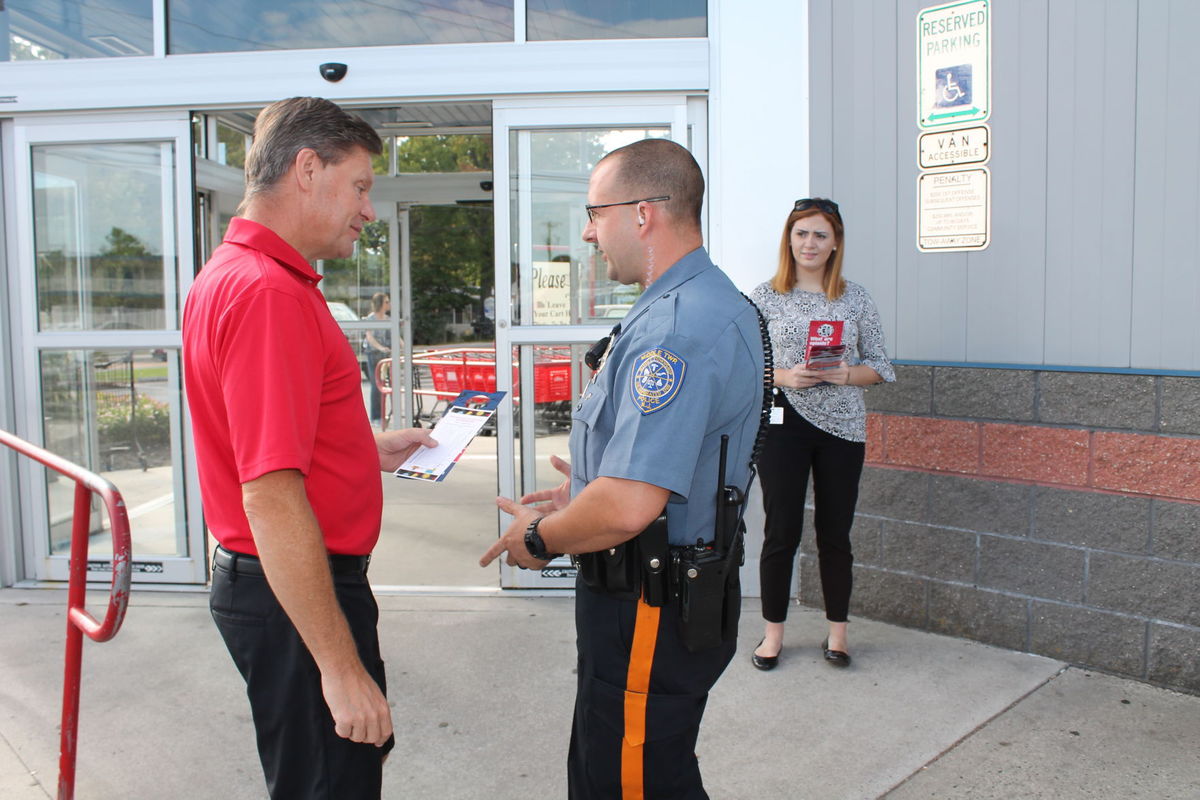 Middle Township police Officer Blake Martindale and Kallie Houlroyd, a Cape Assist intern, speak with Chris Kebalo about the locations of prescription medication drop boxes in Middle Township, as well as ways to prevent opioid abuse. Kebalo said he appreciated the information, and had recently dropped of old medicines at the township drop box.
MIDDLE TOWNSHIP — Local police, representatives of Cape Assist and officers with the Cape May County Prosecutor's Office recognized the national Knock Out Opioid Abuse Day last week by reminding area residents to clean out their medicine cabinets and safely dispose of unwanted or used medications.
"More than half of the people who use opioids or drugs start using them from their homes and not from the streets," said Natalia Wilber, healthy community coalition coordinator at Cape Assist.
Wilber was joined at Joe Canal's liquor store in Rio Grande by township officer Blake Martindale, Lt. Joe Landis of the Prosecutor's Office and Kallie Houlroyd, a Cape Assist intern, to hand out cards to the store's customers with information about how and where to dispose of unneeded medicines.
Another groups of officers and Cape Assist representatives disseminated similar information at the ShopRite across the street from Joe Canal's.
"We have to educate people and not just arrest them," Landis said. "We have to enforce the law, but we also realize that some people are sick. They're mentally and physically addicted."
Landis said law enforcement can't look the other way when it comes to enforcing drug laws. "But we make sure that they get the help they need. We steer them in the direction of people who can help."
But often, for cops and social workers, the first step in treating the addiction can be prevention — stop the problem before it starts — hence the focus on Knock Out Opioid Abuse Day on Oct. 6 by law enforcement and Cape Assist.
"If we can get their attention — the parents, grandparents, caregivers, anyone taking prescription opiods for pain — we need them to clear out their medicine cabinets when they're finished."
Unused, out-of-date or forgotten medicines such as oxycodone, used in Percocet; hydrocodone, used in Vicodin or Lorcet; and propoxyphene, used in Darvon – that are left in cabinets or cupboards can be found and misused by other family members.
Especially young, inquisitive teens.
In Cape May County, 32 people were killed in 2015 by drug overdoses. Three of the deaths were attributed to cocaine. Eighteen to heroin. The rest were caused by opioids, according to state records.
Statewide, 1,454 people died in 2015 as a result of a drug overdose, increasing from 1,253 in 2014, a rise that the Centers for Disease Control and Prevention warned is a significant increase in drug-related deaths.
The main cause of drug overdose deaths nationwide is opioids, both illicit and prescription. According to the CDC, opioids were involved in 33,091 U.S. deaths in 2015, and opioid overdoses overall have quadrupled since 1999.
On Friday, Landis, Wilber, Martindale and Houlroyd stopped incoming and outgoing customers at the liquor store and grocery to speak for a few moments about unused prescription medications and the potential for a serious and negative effect.
Each customer got a card detailing the locations of safe drop boxes and the dangers of leaving unwanted or out-of-date opioid medications in a cabinet within easy reach of kids and others.
It was part of a statewide effort that included members of the Governor's Council on Alcoholism and Drug Abuse; the New Jersey Department of Human Services, Division of Addiction Services; and the Community Coalition for a Safe and Healthy Morris, with help from thousands of volunteers across the state.
Across the state, New Jersey legislators joined with concerned citizens, affected families and substance abuse professionals to lead an effort to raise awareness about the opioid abuse epidemic. They worked to raise awareness of the potential for dependency on prescribed pain medicine and its link to heroin abuse, according to a statement from the Partnership for a Drug-Free New Jersey.
Locally, it was about getting the attention of people who might not be aware of how to dispose of the unneeded prescription medications.
"We want people to at least clean out their medicine cabinets," Wilber said. "A drop box ensures that it's secured, stored and properly disposed of."
Wilber said the coalition is always looking for new members and new ideas to reduce substance abuse in the community. For more information, contact Natalia Wilber at 609-522-5960.