PRO-ACT Recovery Walks 2014
9/4/2014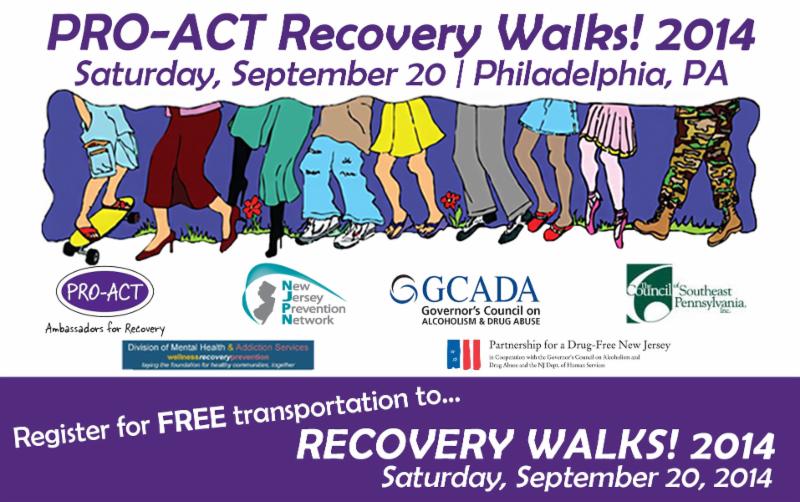 Recovery: It's REAL; It CAN Be Done: It's Happening NOW! 
On Saturday, September 20, celebrate recovery, at this year's PRO-ACT Recovery Walks 2014 event, in Philadelphia.

Thanks to funding from the Governor's Council on Alcoholism and Drug Abuse (GCADA), the New Jersey Prevention Network (NJPN) has coordinated 9 statewide locations to provide FREE round-trip bus transportation for this year's walk. Lunch will also be provided by the New Jersey Division of Mental Health and Addiction Services for all who register for transportation through NJPN! 
Register now for FREE registration, round-trip bus transportation and lunch!
Register for Recovery Walks 2014
To register for FREE event, lunch and transportation,  click here. 
(Limited free registration/bus spots available) 
Event Location
Penn's Landing
Columbus Boulevard & Chestnut Street
Philadelphia, PA 19106

Schedule (Rain or Shine)
8:30 AM -  Honor Guard Lines Up
9:00 AM -  The Walk Starts
10:15 AM - 12:30 PM - Post-Walk Program        
FREE Event, Transportation & Lunch Registration
 Avoid the registration lines at the event!  NJPN offers easy, one-step registration for the event, lunch and transportation. By registering here, you will be registered for:
·       Participation in the PRO-ACT Recovery Walks 2014 event
·       Round-trip bus transportation from your selected NJ transportation site
·       Lunch provided by the New Jersey Division of Mental Health and Addiction Services