pressofatlanticcity.com: Prosecutor commends heroin arrests in Atlantic County, issues warning after 4 found dead
5/12/2017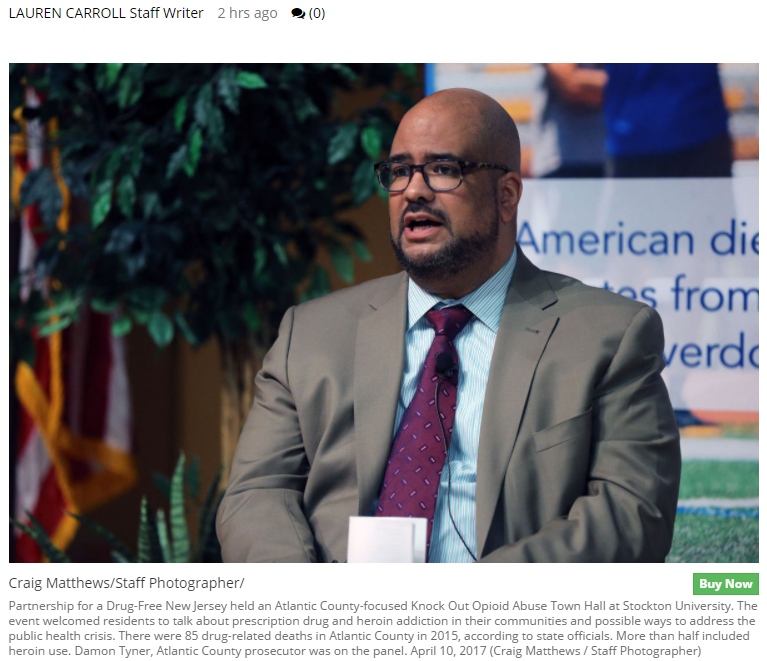 MAYS LANDING — Police disrupted heroin sales last week by seizing more than 10,500 bags of heroin with a street value of $63,000 during arrests.
At the same time, four people died from suspected heroin and fentanyl overdoses in Atlantic County, the county Prosecutor's Office said Thursday.
"Several arrests, disrupted drug transactions and significant seizures of heroin last week were the results of work done by single police agencies within their municipalities, and by work done by multiple local and county agencies working in concert," the Prosecutor's Office wrote in a statement.
Richard C. Roycroft pleaded guilty Tuesday to heroin distribution and possession charges after the county Guns, Gangs and Narcotics Unit and police from Egg Harbor Township, Margate and Linwood seized 4,000 bags of heroin from a Village at Linwood condominium.
Through a plea deal, Roycroft could face eight years in state prison and become eligible for parole after four years.
He is scheduled to be sentenced June 16.
Meanwhile, Atlantic City police arrested four people between two drug investigations.
On May 2, Atlantic City police arrested Dana Gibbs, 52, behind the AtlantiCare Healthplex on Atlantic Avenue and seized 92 bags of heroin. Gibbs was charged with heroin possession and intent to distribute and released on a summons pending a court date.
A city Special Investigations Section investigation ended May 3 with police seizing more than 6,300 bags of heroin and 1 ounce of raw heroin.
The drugs were found during a search of 49- year-old Darryl Tyler's home in the 1500 block of Magellan Avenue.
Police said they saw Tyler sell drugs to Quaran Stokelin, 23, who was arrested and charged with possession of heroin. Clarice Dallas, 33, of Plainfield, was in the home during the search and was arrested for possession of marijuana.
Tyler was charged with possession of heroin, possession with intent to distribute, possession within 500 feet of a public zone and resisting arrest. He was being held in the Atlantic County jail.
According to the Prosecutor's Office, the four suspected drug-related deaths last week would raise Atlantic County drug deaths to 25 deaths this year.
The Prosecutor's Office did not say if the recent arrests or deaths were related.
"The central purpose of this alert is to save lives" the release said.
Anyone with information to locate the sources of illegal drugs may call the Prosecutor's Office at 609-909-7666.