pressofatlanticcity.com: Drug court helps people rebuild lives, graduates say
6/19/2017
​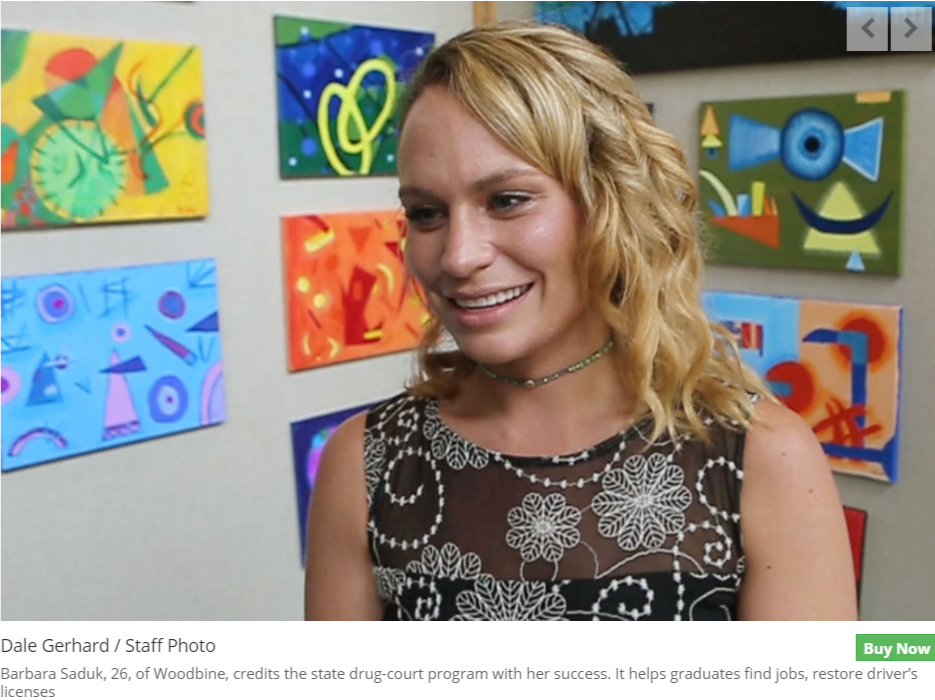 MIDDLE TOWNSHIP — When Barbara Saduk, 26, of Woodbine, was in active addiction, she didn't know there was any other way to live.
This month, Saduk and 88 other people from Atlantic and Cape May counties graduated from the local drug-court program in the biggest class ever in the state.
For many, it meant the start of a new chapter in their lives.
"Today, I always stay humble, I have custody of both my kids, and I'm an employee," she said. "Drug court afforded me those opportunities, and I'm so thankful for being here today."
The state's drug-court model has helped more than 4,700 nonviolent offenders since 2002 get treatment, employment, license reinstatement, medical benefits and penalties paid.
Amid a growing opioid addiction crisis, advocates say the program is crucial.
Program coordinators said drug court works in reducing drug use and crime.
State data show 19 percent of graduates within three years of program completion have been re-arrested for new crimes. Only 7 percent of graduates have been convicted again. By comparison, the National Association of Drug Court Professionals estimates nearly half of those treated in conventional programs commit a new offense.
Rebecca Super, drug-court coordinator for Atlantic County residents, said the statewide programs have undergone changes throughout the years, most notably shortening the duration of participants from five to three years.
Saduk and most others in her graduating class had completed the full five years. The majority of graduates can get their criminal records expunged after completing the program, a big incentive, officials said.
"Focus in the last couple of years has been less on sanctions and more on really looking at the whole person and what help they need," Super said. "The program really engages the courts to help people move forward and rebuild their lives."
Gov. Chris Christie signed a law in 2012 that expanded the state's voluntary drug court model into a mandatory one in efforts to get more drug offenders into treatment.
The Atlantic-Cape May program transitioned to a mandatory system in 2014. The last programs — in Camden, Morris, Sussex and Union counties — are set to become mandatory drug-court programs this year.
Saduk said she can see the benefits of a mandatory program, remembering she would have rather been anywhere else than in the drug court program at the beginning.
LeeAnn Henry, 42, of Hammonton, graduated from Camden County's drug court program five years ago. Since then, she has been clean, parented her 7-year-old son, operated her own business and purchased a home.
Those achievements seemed impossible 10 years ago when she was in and out of jail and detox rehab centers for shoplifting that helped pay for her heroin addiction, Henry said.
In the Camden drug court program, Henry was required to get a job, attend outpatient treatment, go to counseling and 12-step meetings and pay penalties she owed to the state. When she became pregnant with her son in the middle of her program, she worked doubly hard.
"Drug court helped in a lot of ways," she said. "They were strict when they needed to be, insisting I was clean. I really appreciate my (probation) officer. She stayed on top of me, knew I was clean and going to meetings."
Some graduates of drug court programs said criminal and assignment judges make up an essential part of the process. Judge Mark Sandson, known for his vocal advocacy of addiction treatment, said participants can more effectively get their lives back through treatment and recovery.
He said it helps when employers such as ShopRite and people like Joseph Jingoli, operator of Joseph Jingoli and Sons Inc. and DCO Enegry, hire people "based on the content of their character, not the content of their criminal record."
Supportive judges and prosecutors is important, Henry said, but in her experience, the time she spent in jail made her that much more motivated to live a clean life. She said incarceration can serve a purpose and as a deterrent for people suffering and recovering from addiction.
"There's a miracle in the process of drug court and recovery," Henry said. "I'm a junkie to the core, but I run a company, own a house and I'm getting married. Despite having to walk miles to buses and travel hours for a job while pregnant with my son in the program, it literally made me who I am today."