Physicians Become Better Informed on Opioid Prescribing at Do Not Harm Symposium
11/15/2017

FOR IMMEDIATE RELEASE: November 15, 2017
Contact: Matt Birchenough, Media Coordinator, 201-916-1032, media@drugfreenj.org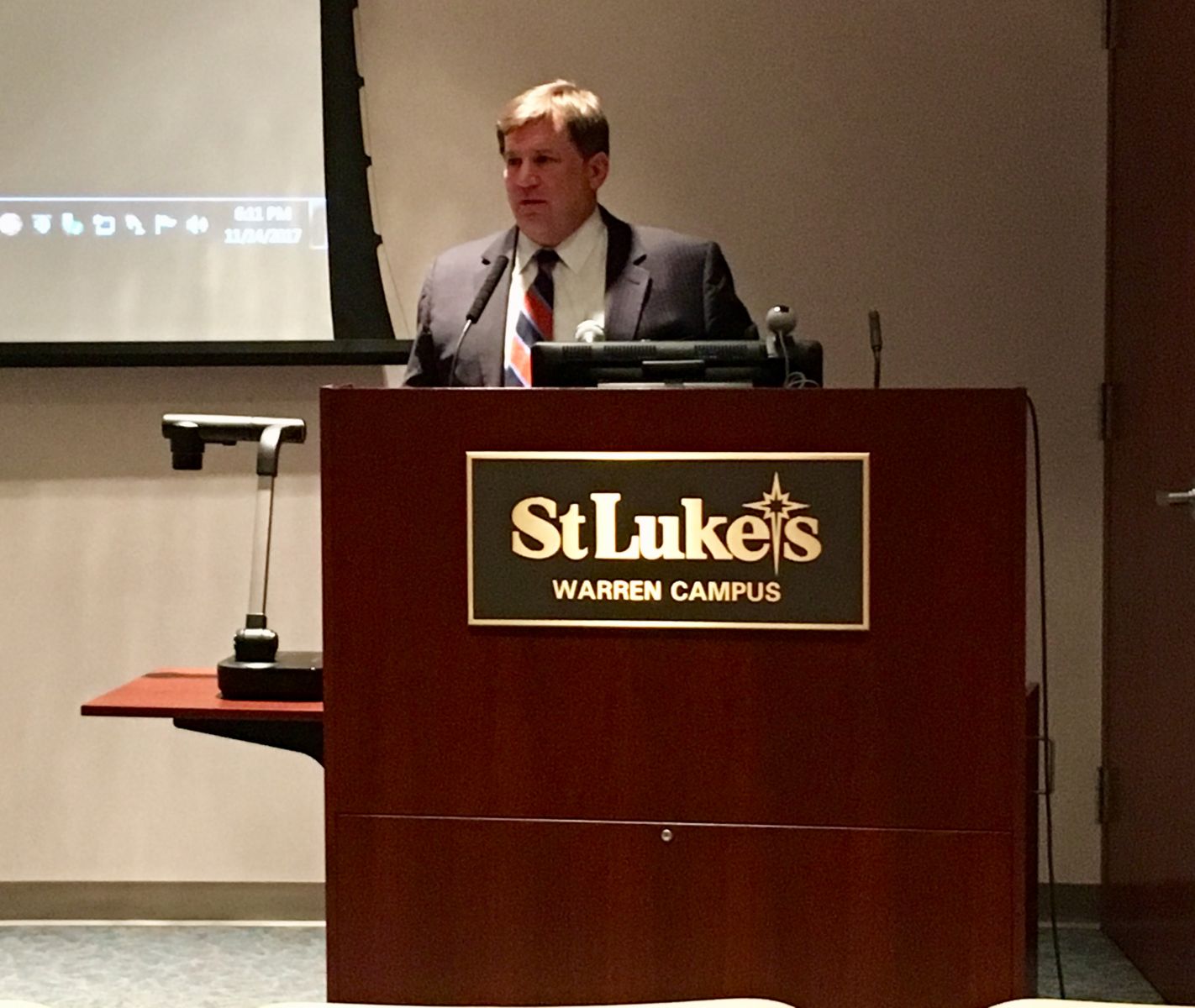 St. Luke's Warren Hospital President Scott Wolfe addressed an audience of physicians at Tuesday night's Do No Harm Symposium, a seminar on safer prescribing of opioids hosted by the Partnership for a Drug-Free New Jersey.
PHILLIPSBURG — Doctors and physicians left St. Luke's Warren Hospital on Tuesday night with a better understanding of the opioid epidemic gripping the state and their role in addressing it after hearing from experts at the  Partnership for a Drug-Free New Jersey's (PDFNJ) Do No Harm symposium.
Speakers including Special Agent Timothy McMahon of the Drug Enforcement Administration – New Jersey Division, Dr. Eugene Decker and Dr. Bruce Bonanno presented critical information on the opioid crisis from law enforcement and medical perspectives to encourage prescribers in attendance to take proactive steps toward practice safer prescribing habits.
"We are here today to talk about safer prescribing and the scope of the opioid abuse epidemic," said Angelo M. Valente, executive director of PDFNJ. "We are not here to assign blame but instead to develop solutions. These symposiums are one step." 
The seminar was co-sponsored by the New York/New Jersey High Intensity Drug Trafficking Areas program, the Drug Enforcement Administration – New Jersey Division, St. Luke's University Health Network and The Warren County Community Health Coalition.
"We're happy to have you here to talk about this issue and to get some better ideas on how to handle it and more creative and alternative ways to address the root issues that have caused the problem," said Scott Wolfe, president of St. Luke's Warren Hospital.
Since it launched in 2013, the Do No Harm Symposium series has provided information to doctors and health systems to help them better understand the link between opioid prescription drug misuse and heroin abuse. A majority of the nearly 4,000 prescribers who have attended symposiums have said that the information learned at the events has resulted in changes to their prescribing habits.
"It has been vitally important to include the medical community in our battle against heroin and prescription opioid abuse," said Carl J. Kotowski, Special Agent in Charge of the Drug Enforcement Administration's New Jersey Division. "We look forward to continuing our long-standing relationship with the PDFNJ on this and other important drug prevention issues."
###
Best known for its statewide anti-drug advertising campaign, the Partnership for a Drug-Free New Jersey is a private not-for-profit coalition of professionals from the communications, corporate and government communities whose collective mission is to reduce demand for illicit drugs in New Jersey through media communication. To date, more than $70 million in broadcast time and print space has been donated to the Partnership's New Jersey campaign, making it the largest public service advertising campaign in New Jersey's history. Since its inception the Partnership has garnered 166 advertising and public relations awards from national, regional and statewide media organizations.