New Jersey Remembers
2/24/2011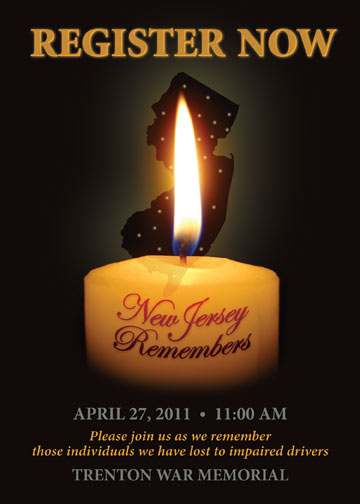 NJ Remembers
In 2009 in New Jersey, approximately 32 percent of the 584 traffic fatalities reported in the state were the result of alcohol-related crashes. To help bring further awareness to the tragedies associated with impaired driving, the Division of Highway Traffic Safety, in partnership with law enforcement agencies, substance abuse prevention organizations and traffic safety advocates, will hold an event on April 27, 2011, to commemorate the lives lost as a result of an impaired driver.
The event will include a processional, where family members will carry a photo of their loved one they have lost, along with a candle. Both the candle and photo will be placed on a table, where they will be displayed throughout the hour-long ceremony, which will also include remarks from invited law enforcement and traffic safety officials.
Parking will be available in the State House garage for those attending the ceremony. A link to all parking facilities and a map of the area is listed below. State Police will be on site to assist in directing participants to the parking garage and War Memorial Building.
http://www.nj.gov/state/divisions/memorial/pdfs/Parking_Brochure.pdf
For further information or questions please contact Maureen Sczpanski at Maureen.Sczpanski@lps.state.nj.us