Burlington County Examines Impact, Solutions to Opioid Epidemic at Knock Out Opioid Abuse Town Hall
10/27/2017

FOR IMMEDIATE RELEASE: October 26, 2017
Contact: Matt Birchenough, 201-916-1032, media@drugfreenj.org
Burlington County Examines Impact, Solutions to Opioid Epidemic at Knock Out Opioid Abuse Town Hall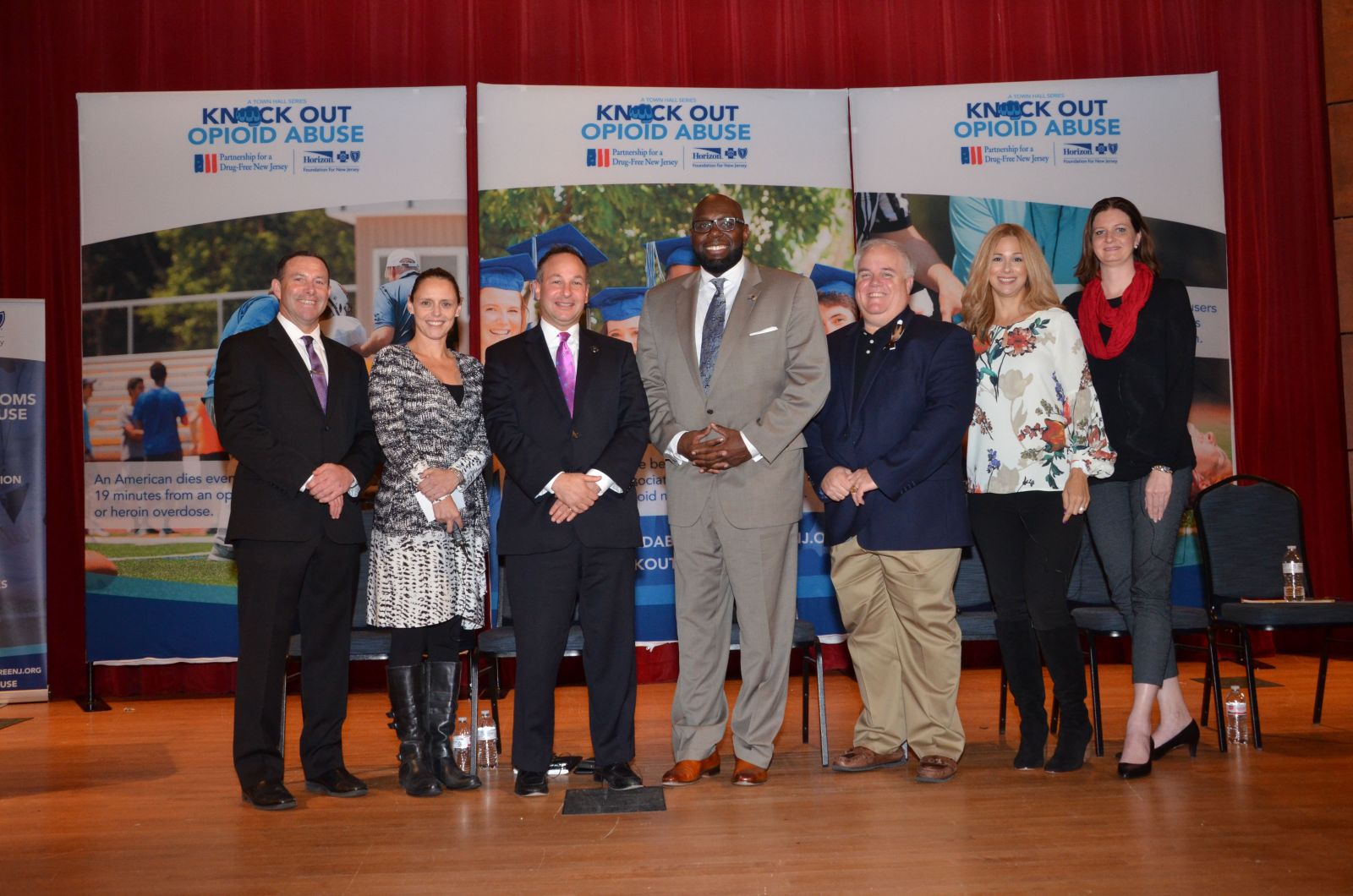 The speakers at Thursday's Knock Out Opioid Abuse Town Hall included moderator Lt. Louis Fisher of the Riverside Police Department, Dr. Rachel Haroz, Prosecutor Scott Coffina, Assemblyman Troy Singleton, Joe Conlin of the Burlington County Coalition for Healthy Communities, Suzanne Harrison of King's Crusade and Freeholder Linda Hughes.
MOUNT LAUREL — Burlington County residents arrived at Rowan College at Burlington County on Thursday determined to make their voices heard in a discussion on the opioid epidemic crippling the state at the Partnership for a Drug-Free New Jersey's Knock Out Opioid Abuse Town Hall.
Organized with the Horizon Foundation for New Jersey, the town hall series focuses on the link between prescription drug dependency and heroin abuse and examines the causes of the current opioid crisis and possible solutions in addressing the issue. The Burlington County Coalition for Healthy Communities and Rowan College at Burlington County worked as collaborating partners for Thursday night's event.
"Everyone here tonight is impacted by this issue, whether it's a family member, a friend or someone in their community," said Jonathan Pearson, executive director of The Horizon Foundation for New Jersey.
The town hall featured an expert panel that included Assemblyman Troy Singleton; Freeholder Linda Hughes; Suzanne Harrison, co-founder of King's Crusade; Burlington County Prosecutor Scott Coffina; Joseph Conlin, coalition coordinator and educator with Prevention Plus of Burlington County; and Dr. Rachel Haroz of Cooper University Health Care.
"We believe that an ounce of prevention is worth a pound of cure, and we are confident that if we continue to talk about these problems we can truly make a difference," Hughes said.
Every day, an average of 144 people in the United States die from an opioid overdose, according to the Drug Enforcement Administration. In New Jersey, an estimated 2,000 people died of an opioid overdose in 2016.
In Burlington County, the number of overdoses from heroin and other opioids rose from 57 in 200 to 83 in 2016, a 46 percent increase, according to the county prosecutor's office. Meanwhile, law enforcement has administered naloxone roughly 700 times thus far in 2017.
"It starts with conversations like this," Singleton said. "It's time for us to break down these walls."
###
Best known for its statewide anti-drug advertising campaign, the Partnership for a Drug-Free New Jersey is a private not-for-profit coalition of professionals from the communications, corporate and government communities whose collective mission is to reduce demand for illicit drugs in New Jersey through media communication.  To date, more than $70 million in broadcast time and print space has been donated to the Partnership's New Jersey campaign, making it the largest public service advertising campaign in New Jersey's history. Since its inception, the Partnership has garnered 166 advertising and public relations awards from national, regional and statewide media organizations.