NJSDD 2012: Nick Alu Wins First Place
5/25/2012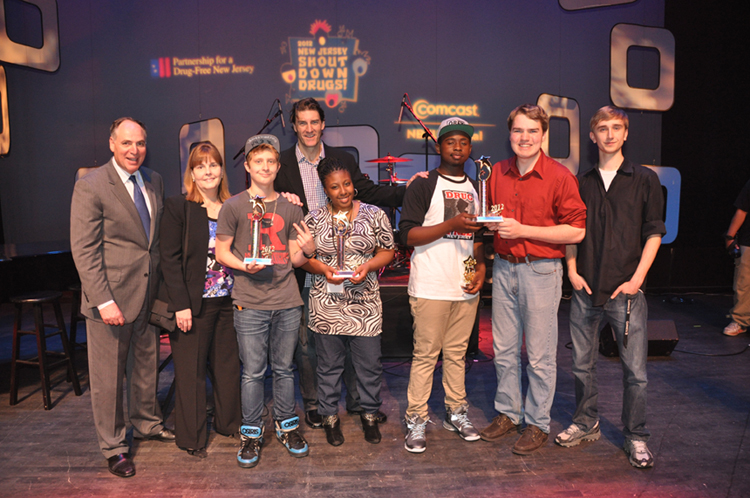 And the Winners Are...
Angelo Valente, Executive Director of the Partnership for a Drug-Free New Jersey and Kimberly Smith, Regional Director, Community Investment, Comcast, are pictured with the winners of the 2012 New Jersey Shouts Down Drugs Concert. First Place Winner Nicolas Alu, Lacey Township High School, Ocean County, Second Place Winner Joanne Dumerand, Arts High School, Essex County, Third Place Winners Kishawn Jack, Hudson County Prep High School, Hudson County, and the members of The Starving Artists Avery Peterson and Kevin Karol from Rumson-Fair Haven High School, Monmouth County, are pictured left to right. Also pictured is, center, is NJSDD Master of Ceremonies, Patrick Boll, star of the Broadway Hit Mamma Mia.
FOR IMMEDIATE RELEASE
June 1, 2012
Contact:
Michelle Vernuccio
Media Coordinator
E-mail: michelle@drugfreenj.org
Phone: 973.467.2100, ext. 24
High School Students Come Together to Shout Down Drugs
in 8th Annual PDFNJ Contest
MILLBURN – High School Students from throughout New Jersey came together to 'shout down drugs', during the Partnership for a Drug-Free New Jersey's (PDFNJ) 8th Annual New Jersey Shout Down Drugs (NJSDD) Competition, held at the New Jersey Performing Arts Center in Newark on May 24, 2012.
High school students featured in the concert were finalists in the statewide contest, who created music and lyrics with substance abuse prevention messages, representing schools and communities throughout the state.
Lacey Township High School, Ocean County senior Nicolas Alu captured first place honors for his original song "Use Your Voice" and Arts High School, Newark, Essex County 11th grade student, Joanne Dumerand, placed second for her song "Just Say No."
Third place honors are shared by the Monmouth County group "The Starving Artists" featuring Rumson-Fair Haven High School senior Avery Peterson and High Tech High School senior Kevin Karol for their song "You Got High" and soloist Kishawn Jack, a sophomore from Hudson County Prep High School, Jersey City, for his song "Drug Free".
The winning students will represent PDFNJ at various events throughout the state this year.
"As an organization, we are committed to helping young people educate themselves about the dangers of drug and alcohol abuse. This program encourages young people to utilize their creative abilities to generate a positive and anti-drug messages," said PDFNJ Chairman Joseph A. Miele. He explained, "music is a tremendous influence in the lives our young people and a great way to get this important message out."
Comcast is proud of our long-standing relationship with the Partnership for a Drug-Free New Jersey," said Bill Kettleson, regional vice president of government and community affairs for Comcast, "the Shouts Down Drugs event is effective in spreading the important anti-drug message, and we are happy to extend its reach through our On Demand platform."
He added, "Comcast on Demand will feature the concert beginning in July 2012. Comcast Digital cable customers can watch Comcast On Demand, at no additional cost and with the ability to pause, fast-forward and rewind. The program can be found by tuning to Channel 1 On Demand, selecting "Get Local" from the main menu and then choosing "Community Investment."
The program's exclusive website, www.shoutdowndrugs.com, allows fans to view finalist's profiles, listen to their music and cast their vote for their favorite song. This year over 180,000 votes were cast from across world.
PDFNJ's NJSDD contest in supported by Comcast and in cooperation with the New Jersey Division of Human Services and the Governor's Council on Alcoholism and Drug Abuse.
Photo and Interview Opportunities of the winners are available.
Best known for its statewide anti-drug advertising campaign, the Partnership for a Drug-Free New Jersey is a private not-for-profit coalition of professionals from the communications, corporate and government communities whose collective mission is to reduce demand for illicit drugs in New Jersey through media communication. To date, close to than $80 million in broadcast time and print space has been donated to the Partnership's New Jersey campaign, making it the largest public service advertising campaign in New Jersey's history. Since its inception the Partnership has garnered 120 Advertising and Public Relations Awards from National, Regional & Statewide Media Organizations.
###